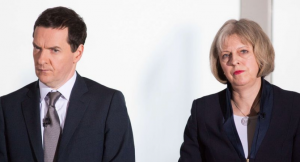 Best served out in the open, if your name is George Osborne. It seems that our ex-Chancellor of The Exchequer is using his new found freedom as editor of The London Evening Standard to undertake a personal and very public vendetta against Teresa May.
Frankly I think he's rather overdoing it. Don't get me wrong, I absolutely understand what a delicious feeling revenge is, that sense of getting your own back for a slight or wrong you have suffered is enormously gratifying, but you just can't keep it going.
Mr Osborne needs to understand that whilst he may gain some instant gratification for his startling headlines and grotesque looking cartoons it is he who in the long run is going to be the one feeling worse off.
Scientists have found that prolonged campaigns of revenge simply deepen the unpleasantness of the original deed that was exacted on you and make your upset even deeper. In common parlance, it simply means you just have to let it go! If you don't, you will perpetuate a cycle of retaliation.
In the case of Osborne vs May I am afraid he is making himself look mean and petty and it's not healthy psychologically. If I were advising him, I would suggest he put his feelings to better use. Such strength of feeling can easily be channelled towards much more productive goals. Somebody, much wiser than me once said 'Whilst seeking revenge dig two graves, one for yourself'.
Once, when upset after somebody had said something nasty about me at school, my Father sat me down and said: "Claire, what other people think about you is none of your business." It's advice that has served me well. I can walk past the joke voodoo kits but can you?
Mahatma Gandhi said it brilliantly "An eye for an eye will only make the whole world blind"
(image courtesy of AFP)