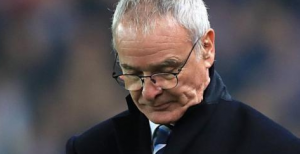 Or in other words Leicester City!
I have no doubt that La La Land is where most of the Leicester City FC supporters felt they were nine months ago when they won the Premiership. Come to that, the whole of the city were probably there too. If they weren't, well they are now. In case you have not heard they have sacked the very manager that got them there, Claudio Ranieri. Now if the Board think that's a good idea I would love to hear the reasons why. The club isn't even in the relegation zone!
Aside from politics which can be a very brutal experience during elections, I think football management must be one of the most precarious jobs out there. Loved one minute, hated the next. A classic way to build insecurity. We wouldn't do it to children yet we do it to adults; how fickle and what immature thinking.
The fact is that in doing this the Board has removed all responsibility from the players, the same core players that took them to victory. This action will make them feel they are no longer accountable for their results, the view being it's all the manager's fault. It isn't, and as a business decision this could well rank up there with Gerald Ratner saying his jewellery business Ratners sold "total crap".
No doubt there is someone lined up to take Ranieri's place, another dispensable human being, measured very publicly by the weekly results.
Far cleverer people than me spend millions each year in some of the best universities around the world looking at leadership and what makes a good leader or a bad one. I would suggest that at Leicester City there is enough material for a dissertation! No doubt someone will do one. I feel sorry for Mr Ranieri,  voted the world's best manager just a few short months ago.
It's very often the case that it's difficult to replicate success and the harder you try then the tougher it seems to get, but that's life, and there are some very good techniques that help. Sacking the manager isn't one of them.
So back to La La Land, the fact that Ryan Gosling can neither sing nor dance isn't going to prevent the film sweeping the board at the Oscars. My daughter and I both agreed that it didn't matter that he was talentless in those two areas as he was just good enough to look at.
We would still pay to go and see him and give him another chance if he chooses to sing or dance again.
I reckon Claudio needed just that, another chance.
(image courtesy of BBC)